Items
Abilities
Angular
[5 SP]
Deals [INT+2×WIL+d6] sideways damage to a single character. If a character who has accumulated sideways damage is rotated by whatever means, the sideways damage is converted into regular non-elemental magic damage or healing, depending on in which direction they were tilted.


Tilt
[3 SP] [1 PP]
Holg rotates a character by 90°, dislocating their hitbox and causing sbsequent weirdness. Causes the last attack that missed an enemy to hit / the last attack that hit an ally to miss. At the cost of a minor action, it can be extended to two beautiful spells with the even more beautiful names Tiltga (7 SP, 2 PP) and Tiltja (12 SP, 4 PP), which affect an entire party and everyone participating in this battle, respectively.
Instability
[5 MP] [2 PP]
The target starts to blink between two locations, evading all single-target attacks. If they are attacked twice in the same turn (in which case one of the attacks will hit) or hit by a multi-target attack, the effect ends.


Mastodon of Pain
[sustained] [7 SP/turn]
Her attacks become usable from the back row, gain an [INT+2] bonus to Hit, are split up into 3 strikes, each of which deals half damage and has a 50% chance to deflect a single ranged attack.


Ignore
[1]
Holg ignores her enemies so thoroughly that the ignorance becomes mutual and the enemies' train of thought is interrupted. Prevents all enemies from targeting her during this turn or re-using the abilities they used last turn.


Exciting Grid
[3 PP] [7 SP] [2]
Divides the battlefield into an inexplicably interesting and awesome grid, which deals [2+WIL/2] damage to enemies for every line of the grid they touch. Obviously, larger enemies will touch more lines and thus take more damage.
(Enemies can make an agility or intelligence save (depending on which stat is higher) to reduce the amount of lines they touch. Human-sized or smaller enemies will touch 0 to [Int÷2] lines. Enemies larger than a human will touch 2 to [INT] lines, and very large enemies (ogres, elephants, dragons) will touch 4 to [2×Int] lines.)
GeoShift
[2 PP] [10 SP]
Situational abilities are a lot more fun if you can cheat the situation. Changes the effective terrain of the battlefield into another terrain of her choice.


Destroytheworld
[all PP, min. 6] [1]
Holg ignores ontological inertia and goes on a rampage, attacking [2+Lvl±1] random enemies, smashing and imploding some landscape features/vegetation/furniture and dropping [INT+current PP] random explosive objects around her (2d4+WIL damage to a random enemy). Enemies have a (current PP/100)% chance to partially cease to exist, which means they will get stunned for this turn and lose half of their current HP or 20% of their max HP, whichever is higher.


Ignore Gravity
[passive]
Holg is unaffected by falls, as she can simply ignore gravity and stay afloat in place as long as it's necessary.

The Power of Ignorance
[passive]
By ignoring all kinds of natural limitations, Holg can perform physics-defying, reality-warping feats of magic, fuelled by …something that builds up over time. She gains a preposterousness point (PP) for every major action she takes (at least 1 per round) at the end of a turn. For every 20 she rolls and every critical hit she strikes by other means (if there are other means to score a critical hit, that is), she gains another PP. While defending she reaffirms her ignorance of inconvenient information, gaining an additional PP. She cannot retain more than [Lvl] PP at the end of battle.
Curiosity
[passive]
Holg is observant and interested in many things, but that doesn't mean she can concentrate on everything at the same time. She can learn a new ability for every level she gains, but she can't use more than 3+((INT+WIL)÷6) different active or sustained skills in a single battle.
Geomancy
The usable Geomancy ability depends on the terrain.
Soil Eater
[Grasslands] (4 SP)
Pelts the enemy with chunks of dirt, transforms one of them into HP-restoring edible matter and tosses it to an ally. Damages all enemies for 2d[1+WIL] HP and heals the ally whose HP is the lowest by half of their missing HP.


Shrubs of Wrath
[Forest] (14 SP)
Conjures some goofy-looking and infuriatingly cutesy animated shrubs that carry the user's squirming enemies out of range, preventing them from acting for 1 turn and from using close-range attacks for [INT÷2] turns (rounded down). If an enemy that has a fire-elemental attack succeeds at a Willpower save, they can use it to burn the shrubs and evade the effect. Berserks enemies weak to Cute-elemental damage.


Break
[Rocky] (6 SP)
Holg looks around and takes a break while absentmindedly kicking up some dust. Heals her for [15+Int]% HP, boosts party AC by 2 for the duration of the round and petrifies enemies in critical health status.


Pull of Sand
[Desert] (5 SP)
Pulls the sand below an enemy away and increases their poslunction. Halves their resistance to elements and status effects and lowers their AC and DR by 1.
Sponge
[Underwater/Riverbank] (6 SP)
An absurdly dry sponge appears out of nowhere to dehydrate an enemy for 2d8+WIL damage (regardless of other fluid sources in the vicinity).
Highjump
[Castle] (4 SP)
Holg leaps high into the air, crashing her relatively shockproof head into the ceiling and causing rubble to rain down on all enemies (for d3+STR÷2 damage). Enemies who somehow ended up between her head and the ceiling are squished for 4d8+STR damage.


Weaponized Furniture
[Fancy Room] (8 SP)
Causes the interior decoration itself to become hostile, halving enemies' chances to hit or evade attacks and causing all enemies performing an action that requires moving during this turn to trip, dealing 2d4 damage.


Science
[Lab/Bottomless Pit] (6 SP)
Scans all enemies and does something untested (executes a random move from a hidden blue magic-ish skill list of your choice.)


Laminate
[Office] (3 SP)
Sets the target's AC to 0 but gives them +(10-Holg's INT) DR. If a fire attack is aimed that way, it will melt the foil, removing the effect and doubling the damage of the fire attack.
*Turn* Undead
[Crypt/Graveyard] (10 SP)
Attempts to stack [INT+2×WIL+d6] sideways damage on every Undead in the vicinity and stuns them for a turn.
It Keeps Happening
[passive] [tower/stair-centric terrain]
When Holg rotates an enemy that's standing on the ground, they have a [60+3*INT]% chance to fall down the stairs, taking [WIL-(times someone fell off the stairs during this battle)×d4] damage.

IsleoftheDamned
[Wasteland/Netherworld] (6 SP)
Traps an enemy's mind in redundant and horrifying contemplations regarding a place that was turned into a horrible demon-infested hellhole. "Let's go to the Isle of the Damned! But before we go to the Isle of the Damned, I need to do something to prepare for the Isle of the Damned…" – Deals [1 + WIL/2]d6 Spooky damage and disrupts enemy concentration, reducing their hit value and spell damage by 2 until the end of combat or the terrain is changed and attempting to confuse them ((20+2×INT)% base chance).
Mastery of Even Numbers in the Calm of the Storm v1.3.5a: Fake Extrapolation of Horrible Planet ~ Mysterious Turmoil of St. Vortex the Eager
[Fallback] (8 SP)
Does something ridiculously complicated and surrounds an ally with an energy field, giving them an additional major action this turn and dealing 4d3 lightning-elemental, physical damage to the next [INT] enemies that hit them.

Stats
STR ±0
DEX -1
AGI +2
FOR ±0
INT +3
WIL +4
LUK +2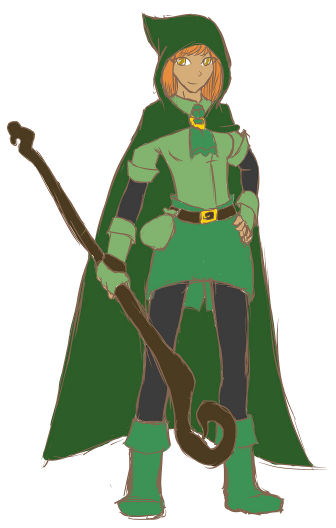 Background
Holg is a curious spellcaster travelling the world in order to train her …unique magical abilities and put them to use.
Her name was meant to be "Holy", since in the mage village where she comes from, people believe that naming a child will automatically bestow them with the knowledge of the spell in question (it seems to work, but there's some people with irritating names like "Stop", "Drain", "Nuke" or "Hungry Friend" (no, of course it didn't work) and many people named Ultima, Curaga or similar who can never put their namesake spell to use, simply because they don't have enough max MP). However, her name was misspelled due to a typo, so she has to go by the unpleasant-sounding name of "Holg". Well, she arranged with it.
No one ever heard about a spell called "Holg", but apparently one exists, since …something definitely leaked power to her. Holg has the ability to manipulate reality itself by disregarding information. Ignoring the laws of physics allows her to perform some feats that were previously considered impossible…